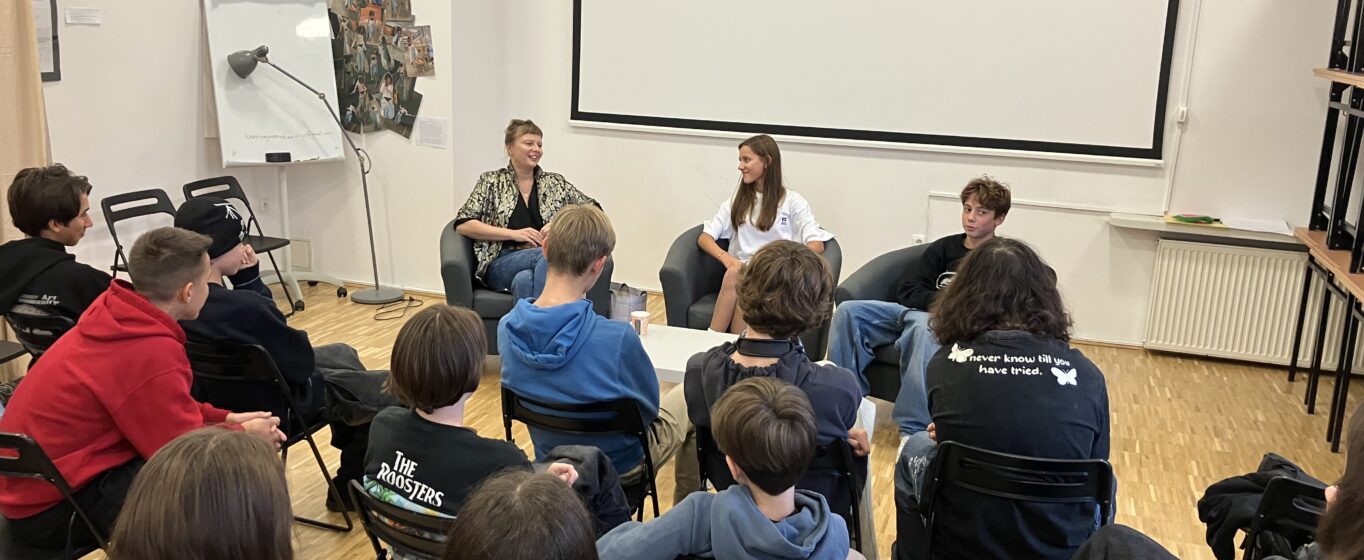 Powder Compact and Herstory
On October 25, Karolina Sulej, a journalist, a writer, a curator of the exhibition about women soldiers in the Warsaw Uprising, an activist of the Kraina foundation, came to a meeting with students to talk about her passions and experiences. She studied interdisciplinary cultural studies, was interested in medicine, but what she cares mostly about is bringing sciences and humanities closer together.
Festive Everyday Life
On a daily basis, she likes to look inside people, listen and share stories that, in her opinion, have a therapeutic value. She recommends friendship with pets. She has three Russian cats named Buba, Farys and Bryś. She is fascinated with history, which allows her to learn about the incredible diversity of life. She is particularly interested in things that are an emanation of our psyche. The simplest objects as substitutes for home help people survive crisis and trauma, and at the same time, the language of clothes can harm, exclude and stigmatize. The writer wants to bring fashion back to life, talk about well-graced everyday life, about clothing as a manifestation of freedom.
Insurgentladies
Her exhibition about women in the Warsaw Uprising at the Warsaw Uprising Museum is archetypal portraits of about fifty women told in the language of their everyday life. Women constituted one fifth of the insurgents, they prepared for defense by training in scouts or the Home Defense League, they played roles without which the fight would not have been possible at all: they were liaison officers, nurses and the so-called peżets, i.e. people who took care of soldiers, providing them with a place to sleep and meals to eat. For Karolina Sulej, fascinated by Polish tradition, the everyday life of the uprising is a jewel that requires proper exposure, like a powder compact that first beautified life and then saved it by stopping a deadly bullet. The author focuses on stories about survival, about helping each other, about life, not despair.
Sources of Power
Like the youth uprising, achieved through simple means, she is captivated by the tradition of the Polish People's Republic and the art of coping with insufficient resources, and she sees an incredible vital force in this aspect of our tradition. She believes that the glass is half full, that everyone has super powers, that you just have to look for them within yourself. She is convinced that we all need humanism, if only to imagine a situation of reaching an agreement.
The meeting was prepared by Marta Wierzbicka-Kotte and her students.
(text: Beata Ciacek; photos: Beata Ciacek)
WRÓĆ DO AKTUALNOŚĆI