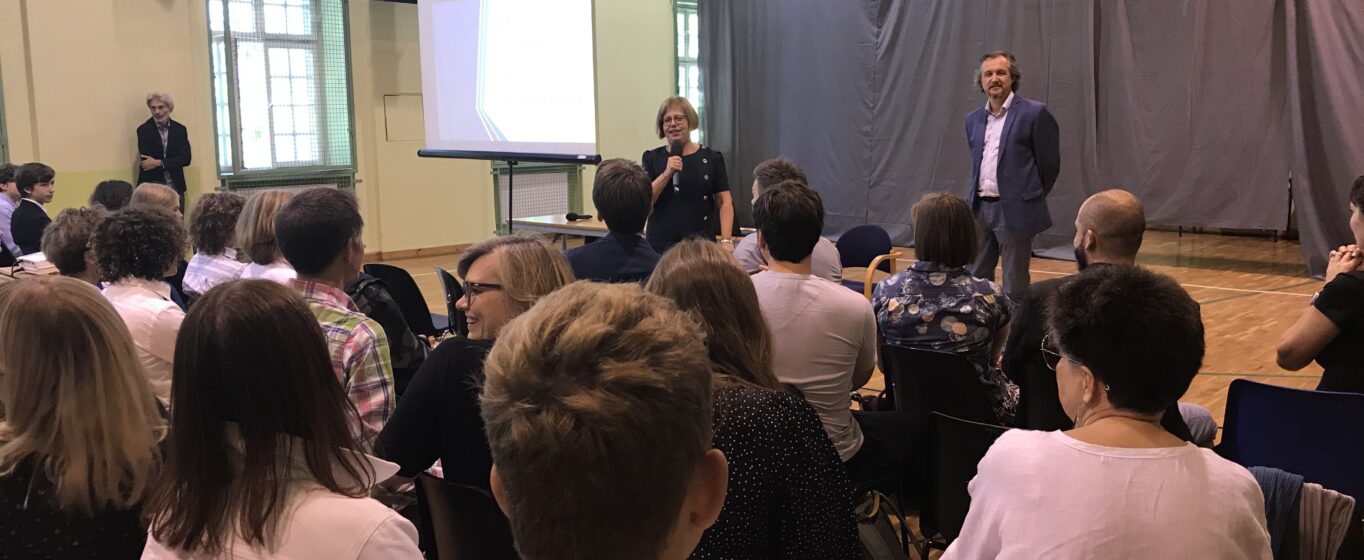 Let's Speak the Language of Values
"I am welcoming the new school year with the hope that it will be a good year for self-reflection, reflection on the world and good cooperation in our school." The headteacher Anna Sobala-Zbroszczyk started the school year by reflecting on the role of an individual in the world. Inspired by Bertrand Russell's essay entitled "What can we do for the world while we live?" stated that the first thing for us should be to answer the question of what type of life we ​​consider valuable and what changes we want in the future. Trusting in the power of thought, she encouraged to follow it persistently and warned that the fear of helplessness might not discourage thinking.
Tomasz Mazur the IB coordinator recalled, after Seneca the Younger, that our life consists of both success and failure, that our plans are opportunities rather than necessities, and that thanks to failures we can get to know ourselves better. He wished everyone that our school would be a place of good life choices, taking advantage of opportunities and facing challenges.
In the inaugural lecture, dr Tomasz Stryjek talked about the idea of ​​Central and Eastern Europe as well as the contemporary political situation in Ukraine and the role of Poland. He drew attention to the uniqueness of the events related to the aggression of Russia and the war in Ukraine, and to the need to persevere in an attitude of openness and solidarity towards those in need of support. He stated that although some politicians today are trying to refer to Oskar Halecki's idea in which Poland was the vanguard of Latin civilization in the region, it seems that reality has written a new scenario. The courage of Ukrainians headed by President Volodymyr Zelensky and the attitude of Polish citizens and its authorities began to create a surprisingly positive history of mutual Polish-Ukrainian relations. The events of recent months have confirmed the importance of values ​​and acting in accordance with them. The words of the President of Ukraine, who was offered to be evacuated from Kiev, threatened by Russian aggression: "I do not need to be given a lift, but I need weapons" expressed this attitude most emphatically.
(photos: Beata Ciacek; text and translation: Beata Ciacek)
WRÓĆ DO WYDARZEŃ